News and Events
At the end of FY13, the Safe Routes to School (SRTS) program will cease to exist. There will not be another round of SRTS infrastructure projects. If a city or town wishes to apply for sidewalks for a school, they will have to do so under the Transportation Alternatives Program (TAP) and compete with other applicants for funding. Non-infrastructure projects are not covered under TAP. All projects will be 80% federal funds and 20% sponsor funds. TAP applications will be mailed to mayors and county commissioners in the coming weeks, and schools will need to go through them. In the meantime, for assistance with non-infrastructure projects, please contact Michael Bassett at (334) 353-7953 or via email, and/or Adrinda Carter at (334) 206-5137 or via email.
2013 Bicycling Poster Contest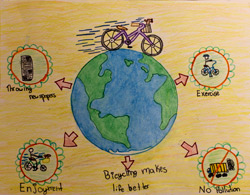 "Why do you think bikes make life better?" That was the question posed to students all over Alabama for the 3rd Annual 5th Grade National Bicycle Poster Contest. Entries were submitted, votes were counted and we have a winners!
The first place winner for the state of Alabama goes to Heather from Bay Minette Intermediate School in Bay Minette. As the first place winner for the state of Alabama, Heather won a Schwinn Bicycle, a Lazar Sport Helmet, and a bike light from Planet Bike. Heather is also eligible for the national prize, which is a trip for two to DC in the Spring of 2014 to the National Bike Summit. The national winner's school will also receive bike parking. Voting for the National Winner will take place May 1st-7th at Saris Cycling Group.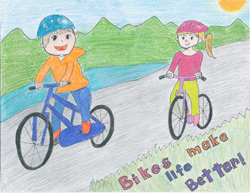 Miki from Oak Mountain Intermediate School in Birmingham is our second place winner. For placing second, Miki won a Lazar Sport Helmet and a bike light from Planet Bike.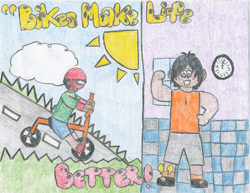 The third place winner is Hydeia from Hibbett Middle School in Florence. Hydeia won a Lazar Sport Helmet.
New Management for Safe Routes to School
The Safe Routes to School program is now under the management of Mr. Bob Kratzer following the retirement of Mr. Bill Luckerson from ALDOT. Changes have been initiated to simplify the program's application process and to make the program more equitable to all applicants.
International Walk to School Day
International Walk to School Day will be celebrated again in October 2013. Go to Walk to School Day for more information and to register your event.
National Bike Month
Every May is National Bike Month. The League of American Bicyclists promote Bike-to-Work Week and Bike-to-Work Day. For more information, visit League of American Bicyclist's Bike Month.
National Childhood Obesity Month
September is National Childhood Obesity Month. Twenty-three million American children and teens are either overweight or obese. To learn how you can help give our youth a healthier start in life, visit Healthier Kids, Brighter Futures.