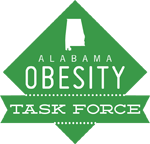 The Alabama Obesity Task Force is a volunteer membership organization that addresses obesity through advocacy, changes and programs. Please read our brochure for more information on the goals and objectives of the Alabama Obesity Task Force. If you would like to be a part of the Task Force, please complete the application form and submit it via email.
2013-2014 Board Members Announced
At the Alabama Obesity Task Force meeting on May 14, 2013, newly elected board members were announced. The 2013-2014 board members are:
Sheena Q. Gregg, Chair
Kathe Briggs, Co-chair
Michael Jackson, Past chair
Committee Chairpersons:
Advocacy: Debbie Morrison, Chair; Melanie Bridgeforth, Co-chair
Community: Kathy Shuleva, Chair; Gina Mabrey, Co-chair
Communications: Verna Gates, Chair; Jane Henry, Co-chair
Data: Linda Knol, Chair; Richard Sinsky Co-chair
Health Care Provider: Heather Whitley, Chair; Co-chair vacant
Membership: Michael Jackson, Chair, (Secretary to assist)
Student Involvement: Jessica Lauren Newby, Chair; John Jackson, Co-chair
Food Systems: Jennifer Ropa, Chair; Alice Evans, Co-chair
Action for Healthy Kids: Mary Martin Nordness, Chair; Penny Edwards, Co-chair
Task Force Seeks Secretary
The Alabama Obesity Task Force would like to expand the Board members to include a secretary. A job description for this two-year board term is available online. If you are interested in volunteering for this role, please contact email Sheena Gregg.
Strategic Plan for the Prevention and Control of Overweight and Obesity in Alabama
A major goal of the Alabama Obesity Task Force was to develop and implement a comprehensive, realistic state plan that will reduce the worsening obesity epidemic in Alabama. The plan was not to change approaches already in progress, but rather to create a uniform approach to reduce obesity. The Alabama State Obesity Plan provides goals and objectives to follow at various social-ecological levels.
The plan provides various approaches to address the impact of obesity on Alabama's citizens including education and awareness, lifestyle and behavioral choices, community-based environmental strategies, school and worksite improvements, and policy development or changes. You can read the plan in its entirety at the link below.
Strategic Plan for the Prevention and Control of Overweight and Obesity in Alabama
Wellness Program Guide
The Obesity Task Force designed this Wellness Program Guide for Alabama work sites, but the information can easily be transferred into other settings, such as faith-based or community organizations. The guide provides easy "how to" steps in creating a work site wellness program and includes local testimonies and success stories.
Mission Statement
"Working toward prevention and reduction of obesity for a healthier Alabama."
Purpose Statement
"The State Obesity Task Force works to address overweight and obesity issues through advocacy, policies, environmental changes, and programs that support healthy lifestyle changes."