News and Events
2015 Alabama Newborn Screening Conference
The 2015 Alabama Newborn Screening Conference was held September 18, 2015 at the Prattville Marriott Conference Center. Alabama celebrated its 50th year of newborn screening in 2015, and the focus of the conference was on the timeline of newborn screening in Alabama.
There were approximately 300 people in attendance and included pediatric providers, nurses, lab technicians, parent advocates, audiologists, and other health care professionals. Conference presentations and handouts are now available. The Alabama Newborn Screening Program thanks all speakers and participants for making the conference a huge success.
Alabama Birthing Facilities Recognized
Congratulations to the following birthing facilities for their outstanding effort in newborn screening specimen collection. They had no newborn screening specimens rejected by the Bureau of Clinical Laboratories during the months below. Their efforts set the standard for other hospitals participating in newborn screening across the state.
| | |
| --- | --- |
| September 2015 | October 2015 |
| Athens Limestone Hospital, Athens | |
| Highlands Medical Center, Scottsboro | |

The following birthing facilities are also recognized for having 5% or less of their newborn screening specimens rejected during the months noted below. The state goal is to have less than 5% of newborn screening specimens rejected for testing.
| | |
| --- | --- |
| September 2015 | October 2015 |
| D.W. McMillan Memorial Hospital, Brewton - 5.00% | Northeast Alabama Regional Medical Center, Anniston - 1.89% |
| Gadsden Regional Medical Center, Gadsden - 3.23% | Springhill Medical Center, Mobile - 3.90% |
| Northeast Alabama Regional Medical Center, Anniston - 3.36% | |
The Newborn Screening Program is committed to the improvement of specimen collection and continues to work with all birthing facilities across the state to reduce the number of rejected specimens.
Newborn Screening Mobile Applications Available
There are free mobile applications available for newborn screening providers and parents. First is an app available for medical providers through the American College of Medical Genetics (ACMG). This app allows users to access ACT Sheets, which provide short term actions a health provider should follow in communicating with the family and determining the appropriate steps in the follow-up of the infant that has screened positive.
Second, a free app for parents of infants with hearing loss is available. The CDC Early Hearing 411 app has been developed by the Early Hearing Detection and Intervention (EHDI) team. The main purpose for this app is to provide a way for parents to manage their children's early hearing care information and share resources.
Finally, a new mobile app is available and provided as a free service by Children's Healthcare of Atlanta to aid health care professionals in screening for critical congenital heart disease. A website version of this application is available at Pulse Ox Tool. The algorithm in this application is used under a license granted by the American Academy of Pediatrics and was recommended by Kemper et al. in "Strategies for Implementing Screening for Critical Congenital Heart Disease." (Pediatrics.2011;128(5):e1259-67). This is the same algorithm recommended in Alabama and found in the Hospital Guidelines for Implementing Pulse Oximetry Screening for Critical Congenital Heart Disease. These general clinical guidelines are provided for use by healthcare professionals in evaluating treatment options. They are not a substitute for individual professional judgment.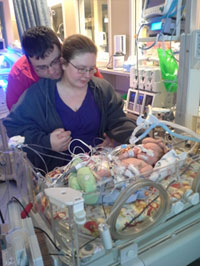 Family Highlight: Newborn Screening Saved My Baby's Life
First time parents Kyle and Leslie Ethridge had an uneventful pregnancy and birth of their first child Grayson in December 2012. Grayson was evaluated by his pediatrician after delivery, and the new parents were told everything was fine. The night before they were scheduled to leave the hospital the nurse took Grayson for routine vital signs and also performed the pulse oximetry screen, which revealed a 97% oxygen saturation in his right hand and a 87% oxygen saturation in his foot.
Grayson was quickly transferred to Baptist Medical Center South and then flown to Birmingham for open heart surgery. He was diagnosed with ventricular/atrial septal defect and an interrupted aortic arch. Grayson sees a pediatric cardiologist on a regular basis and has had superb news every visit. According to Mrs. Ethridge, "Family, friends, and faith kept us sane during this trial. We have come out stronger and are very proactive in raising awareness for pulse ox screening to detect congenital heart defects. Newborn screening saved my baby's life."
Newborn Screening Celebrates 50 Years
Newborn screening, one of public health's greatest achievements, celebrates 50 years of saving babies' lives. For the past 50 years, newborn screening has been responsible for saving about 12,000 babies each year from death or disability.
The first test of newborn screening was developed in 1963 by Dr. Robert Guthrie to detect phenylketonuria, otherwise known as PKU. It is a serious metabolic disorder in which the body is unable to metabolize certain amino acids and can lead to permanent mental retardation if not detected and treated early. Children with PKU were once institutionalized before the inception of newborn screening.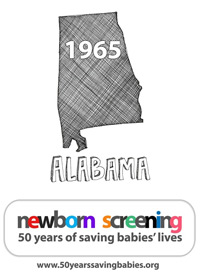 Newborn screening has continued to expand over the years and currently includes more than thirty disorders. In the early 2000s, the introduction of the sophisticated tandem mass spectrometry device allowed for multiple newborn screening tests to be performed simultaneously resulting in quick, accurate, and cost effective screening.
In Alabama, screening for PKU began in 1965 with the addition of congenital hypothyroidism in 1978, hemoglobinopathies (sickle cell) in 1987, galactosemia in 1992, congenital adrenal hyperplasia in 1994, and other metabolic disorders detected through tandem mass in 2004. In 2008, Alabama began screening for cystic fibrosis and officially added universal newborn hearing screening to its panel of disorders even though most facilities had begun voluntarily screening in 2001. This year, Alabama added screening for critical congenital heart disease increasing the number of primary disorders to 30.
The Alabama Newborn Screening Program identifies 150-200 babies each year with a metabolic, endocrine, hematological, or other congenital disorder. These babies usually look and act healthy at birth. Most affected babies have the opportunity to grow up healthy and develop normally through a simple blood screen that saves babies from death or disability.
The Association of Public Health Laboratories has published the book, The Newborn Screening Story: How One Simple Test Changed Lives, Science, and Health in America (25 MB) in recognition of the 50 year anniversary of newborn screening. The book does a wonderful job of capturing the enormous good that newborn screening has contributed to public health and includes many family stories that touch the heart.
Family Perspective Videos
Below is a link to the testimonies of Alabama families with children identified through newborn screening. The families shared their stories at the 2011 NBS Conference held August 19 at the Prattville Marriott Conference Center.