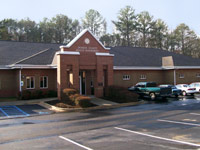 The Jackson County Health Department offers clinical, home health, and environmental services to the public.
Certified copies of birth, death, marriage and divorce certificates may be obtained from this health department.
Hours of Operation: 8:00 a.m.-5:00 p.m., Monday through Friday
Customer Satisfaction Survey
The Alabama Department of Public Health is asking patients of our county health departments to complete a customer satisfaction survey. ADPH cares about what you think of the services we provide. We value your feedback and look forward to receiving your ratings and comments.
For contact information, including addresses, phone numbers, and email, please visit Contact Us.