Name That Beep
ADPH and the Alabama Agency Fire Safety Group commemorated the 2010 Fire Prevention Week, held October 3-9, by hosting a statewide prevention campaign, "Name That Beep," in Alabama's elementary schools.
The campaign was open to elementary school children in Kindergarten through sixth grade. Each elementary school was to select a project from the program guidelines or create an original project in keeping with the spirit of fire education and prevention.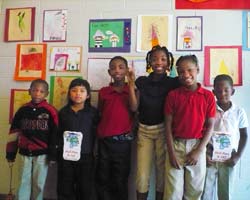 Montgomery's Davis Elementary School used fire safety as part of its curricula during October to encourage students to not only learn more about fire safety, but to also pass that knowledge along to their parents and friends after school.
"Davis Knows Fire Safety" became the school's motto for one month, allowing the students to participate in several safety-related activities, such as:
making an escape plan
the importance of smoke alarms
how to identify fire safety hazards
how to escape a burning house
The students created artwork using fire safety concepts, and prizes were awarded to students in Kindergarten through second grade and third through fifth grade.
In addition to planned fire drills at school, students were treated to a visit from the Montgomery Fire Department's Smoke House, a public education tool used by the Montgomery Fire Department to teach children how to crawl through a smoke-filled house and escape safely.
For more information about the campaign, contact Samille Jackson.