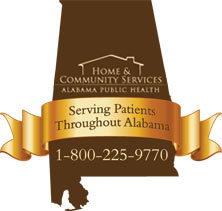 The Bureau of Home and Community Services administers statewide home care programs for the Alabama Department of Public Health.
Receiving services at home allows elderly and/or disabled citizens to remain in their homes longer, and often with better outcomes. Home care can also eliminate or delay the need to enter a nursing home.
Many services are available to the citizens of Alabama, including:
skilled nursing
personal care
wound care
intravenous therapy
diabetic care
cardiovascular care
post hospital assessment and teaching
urinary catheter management
medical social work services
physical, occupational, and speech therapy
skilled and unskilled respite
Services are provided by registered nurses, licensed practical nurses, home health aides, social workers, and therapists. The eligibility requirements vary from one program to another and can depend on such factors as age, disability, or socio-economic status.
Alabama Department of Public Health Home Care Services

Home Health Electronic Health Record (EHR) Request for Proposals (RFP)
Details for this RFP are now available online.
CHAP Accredited
The Alabama Department of Public Health's Home Health Program is CHAP Accredited.